Wise Platform for
Global Businesses.
An embedded, scalable cross-border payments solution for your users
The power of Wise, delivered via your platform. Integrate and choose an industry-leading, API-first platform to power user payments with global coverage, instant transfer speeds, self-service design, smart tracking and automation tools and more.
50+


currencies
available over the Wise network to make and receive payments, in 90 countries. Additional coverage via SWIFT to 170+ countries.
50%


instant
payments in 2022 to 80+ countries. Over two thirds of all payments via the Wise network arrive in less than 10 minutes.
100%


visibility
of payments processed via Wise, using our status tracker and delivery estimator smart tools.
Send money integrations
Pay out globally, managed by Wise.
Supercharge your company's payment-making ability by integrating with Wise Platform. Use Wise Platform for all your Send Money needs - local, global or mass-market payouts, embed Wise remittance for your customers, employees or users, and more.
Wise Platform is built to manage all aspects of money transfers including front-end design, operations, compliance and treasury and is supported by more than 60 different Wise teams.
There are prebuilt solution types ready to deploy, from developer-friendly end-to-end API integrations to seamless integrations into Wise's payment platform. Check out some of our Send Money solution types:
World-class FX provider
The largest instant payment network, backed by transparent rates, intelligent treasury, global support and regulatory expertise.
Convenient & scalable solution
Self-service design for end-users, focused on simplicity, eliminating errors, and maximizing satisfaction.
Competitive pricing
Give your users access to global payments up to 8x cheaper than industry average, or set your own margin to optimize your revenue.
Joined go-to-market
Build your integration together with dedicated Wise Platform delivery teams to offer a market-leading solution.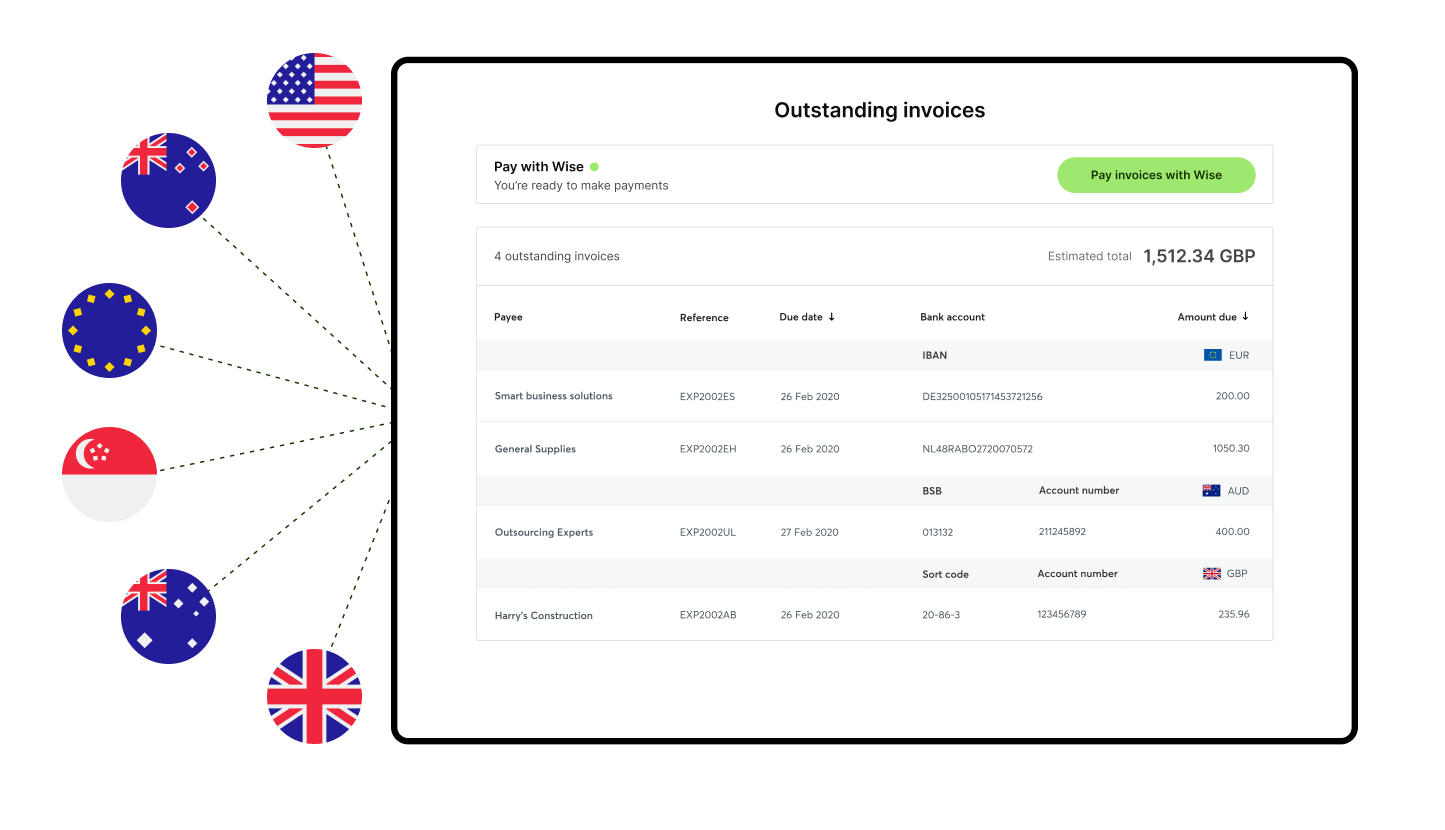 API connected
payments partner

.
The power of Wise, embedded in your platform
Connected partners can access full-service integrations for global transfers, with drop-in components to suit your needs. Over 30 components are available to build your perfect payments engine.
Affiliate payments partner

.
Offer payments via Wise to your users, now
Refer customers to Wise and generate new revenue in a quick and free Affiliate partnership solution. Offer international transfers to your customers and leverage Wise to manage your customers and do the heavy lifting.